Books for You
Rev. Isaac Peter Okayo has written two books that can be of great help to you!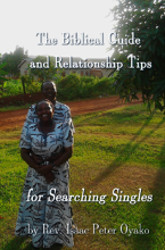 The Biblical Guide and Relationship Tips for Searching Singles

This is written particularly for young people desiring God's perfect marriage partner for them, but often growing impatient. Pastor Isaac says, "You just need to follow God's instructions." . .. for MORE (and to buy the e-book edition)
The Discipleship Training Manual

This book is addressed to pastor and church workers . . . .for MORE (and to order it)
Are you a
Work-at-Home-Mom
? Download and read (for free)
WAHM-IT!
The Masters Course. Yes, we handle
Questions!
Make Your KNOWLEDGE Sell!
is a manual to guide you through brainstorming, developing and marketing your info-product. That, and
Make Your WORDS Sell!
will give you all the training you need. The rests is up to YOUR mind and will-power.