Vicky Abio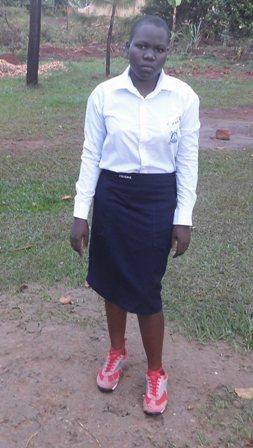 Vicky comes from Northern Uganda. Both her parents are alive but extremely poor, and bed ridden. They are victims of chronic HIV/AIDS disease, which has rendered them incapable to support their 9 children, of which Vicky is the oldest.
RTM took over Vicky's education from the beginning, when she had dropped out of school in Senior 3, in 2012. We linked Vicky to a 59-year-old carpenter in England, as her sponsor.
Vicky completed Senior 4, and sat for a national examination, and passed very well. She was elected Student Representative for the Girls Hostel.
In the beginning of this year, she entered A level at Iganga High School,taking History, Geography, Divinity, plus computer. Unfortunately, Mr. Hudson, her sponsor, succumbed to cancer in May of this year.
Vicky was not able to pay that term's tuition of UGX 580,000 (USD $232). Vicky's hopes of returning to school on September 8th when third school term commenced, were dashed. She was required to pay the outstanding bill, and another USD $232, plus requirements of about USD $20.
She stayed at the Okayo home, waiting for a sponsor.
Oct/2017 Update: We are happy to report that Vicky has got a sponsor again, and is now at Kyambogo University pursuing B. Development studies.
Please take time to read the profiles of more of our girls - waiting for their education in Uganda.