Betty Loroti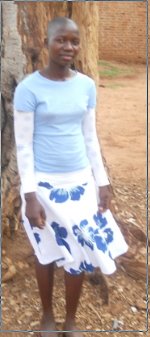 Betty is a Karamojong, and a street girl who is exceptionally brilliant.
She cannot remember her parents, having left Moroto in quite tender age (4 years old), with other children to come to Jinja in search of a better life. Life was not so easy, so they lived off garbage bins from the streets. Streets in Kampala and Jinja are crowded by Karamojong street children.
Betty sneaked to the main street primary school and attended school with other children. She would miss most of the classes, but whenever she attended she was always the best. Her excellent performance shielded her from trauma of being a street child. She could also skip classes: She only studied 4 classes instead of 7 classes in primary school. She attended Primary One and Two, then jumped to Primary 4, and Primary 6, and finally 7. All the studies were done while she was residing in the street and begging.
When the examination results came, Betty was the best student, qualifying to go to the best schools in the country. Unfortunately, she could not.
One day Betty was arrested by the police as they were rounding up street children who had become menace, and she was taken to police cells. The swoop was to get streets free from criminal gangs of street children who were vandalizing cars, snatching bags from people, etc. This happened at the time when Betty was waiting for her PLE examination results.
During that brief police custody, Betty heard the gospel of Jesus Christ and gave her life to Jesus. A police woman knew of a widow who was a Christian and connected Betty to her. Betty was taken in that family. The widow is not wealthy, and struggles just to feed Betty, together with her many children.
When the results came - and Betty had excelled -the widow begged her relative, who is a teacher, to help Betty as she promised to pay in installments.
In secondary school, Betty still excelled, topping the class each school term, and for all the three terms. Betty's class performance was above 90% in all subjects including Mathematics and sciences.
Currently in Iganga High School, Betty is searching for sponsorship to study. She needs 1,445,693.91 Ugandan Shillings a year -, (which is 375 GBP, or 476.86 Eur, or $584.12 US, or $592.38 Cdn, or $571.07 AUD), for four years, to attain basic secondary education, and another 2 years to complete A level before starting University. She is aiming at Medicine to help her nomadic tribe, the Karamojong.
Since the currency is a little different, depending on which country you are in, and sometimes fluctuates, it is best if you contact Pastor Isaac Oyako, or his assistant, Loy, about your sponsorship of Betty Loroti.
July 2015 update: Betty has a full scholarship for her secondary O'Level.
October 2017 update: sitting for her senior Six exams starting on October 13th
July 2018 Update: Betty performed well at her S6 level to join a comprehensive nursing course at Jinja Nursing, Betty has a sponsor from Netherlands taking through her nursing training school. Praise the Lord!
Please take time to read the profiles of more of our girls - waiting for their education in Uganda.